GAZA, Palestinian territories - The death toll in Gaza and Israel since hostilities surged on Monday of last week, has now soared past 200. Fifty-nine of those were Palestinian children, and 2 of them Israeli children. Thirty-five Palestinian women have also died.
As of Monday this week 208 people have been killed, 95 percent of them Palestinians.
Relentless Israeli airstrikes, one involving 160 jet fighters at one time, have blitzed the tiny Gaza Strip, which has been blockaded by the Israeli army for fourteen years, closing off access to the world by land, sea and air. The area is populated by two million Palestinians, 55 percent of which are children according to the United Nations. The enclave is heavily impoverished and its people largely unemployed due to conditions under the blockade. The area has limited electricity and water supplies, further diminished by the air raids of recent days as infrastructure has been targeted by Israeli warplanes.
Numerous multi-story buildings have been demolished in the attacks, one taking a single family of ten that claimed a mother and 4 of her five sons.
Two of the buildings where international media have their offices have been bombed, although warnings were given in advance to avoid casualties.
Al-Jawhara Tower, a 9-story building in central Gaza City that houses several media offices along with residential apartments, was destroyed by Israeli airstrikes early on Wednesday.
The Associated Press headquarters in Gaza was housed in another building which included other media outlets, among them Al Jazeera. The 12-story building had been occupied by the AP for the past fifteen years. It was demolished in an air raid on Saturday.
"This will not stop us from continuing our work and will not silence the Palestinian voice," Alkofiya TV, one of the media outlets housed in Al-Jawhara Tower told The Media Line. "The occupation knows that the Palestinian narrative exposes its crimes; that's why it attempts to target journalists either by hitting their offices and their cars or by blocking the image and silencing the voice."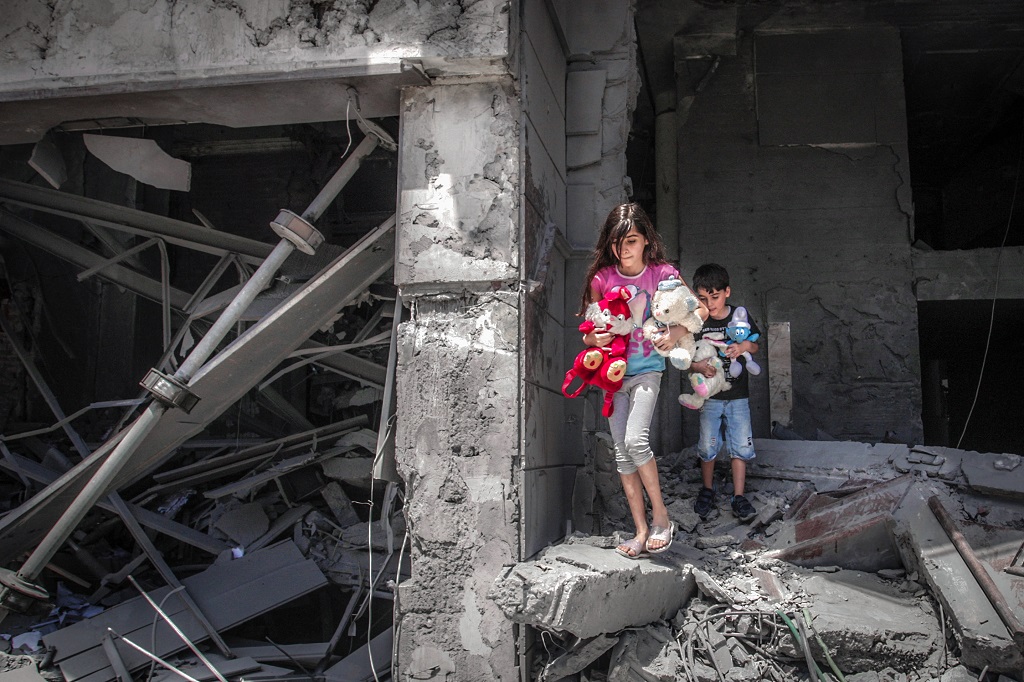 Hamas and other militant groups have pounded Israel with an estimated 2,900 rockets according to the Israel Defense Forces. The IDF claims they are aimed at civilian populations. Ten Israeli civilians have been killed in the hostilities, including nine civilians, 2 of them children. The IDF has also confirmed one of its soldiers has been killed. Israel has the protection of the Iron Dome, which, according to Israeli Prime Minister Benjamin Netanyahu, has a success rate in intercepting rockets and other projectiles of close to 100%. Israel also has an extensive national network of air-raid shelters. The Palestinians have no shelters and no Iron Dome.
Despite the blatant disproportionate escalation, Israel has mustered support from many quarters, while there has been little for the Palestinians, even from Arab countries.
French President Emmanuel Macron and Egyptian President Abdul Fattah al-Sisi who is in Paris, said in a joint statement they "share a deep worry about the ongoing escalation of violence and deplore the many civilian victims."
Thousands of German protesters against the Israeli air attacks hit the streets of Berlin, Frankfurt, Leipzig and numerous other German cities on Saturday, however German police haltered the protests and dispersed the crowds. German Chancellor Angela Merkel described the protests as antisemitic, saying the day prior, while Germany respects the rights of people to demonstrate, "whoever uses such protests to proclaim their hatred of Jews is abusing their right to protest." The statement was relayed by government spokesman Steffen Seibert
"Our democracy will not suffer antisemitic protests," Seibert quoted Merkel as saying.
On Monday, Merkel went further throwing Germany's weight solidly behind Israel. 'German Chancellor Angela Merkel spoke with Israeli Prime Minister Benjamin Netanyahu on Monday and discussed the current escalation in the Middle East conflict,' according to a statement by Merkel's office.
"The Chancellor once again condemned the continued rocket attacks on Israel from Gaza and assured the Prime Minister of the solidarity of the German government," Seibert quoted Merkel as saying.
"The Chancellor affirmed Israel's right to defend itself against the attacks," Seibert added.
Prime Minister Netanyahu, confirmed in a statement he had spoken by telephone with Merkel on Monday, "who reiterated Germany's unequivocal support for Israel's right to defend itself."
"PM Netanyahu thanked Chancellor Merkel for acting against anti-Semitic elements in Germany," a tweet from the Israeli' prime minister's office posted on Monday said. Mr Netanyahu also thanked the Netherlands and Austria for their support.
Mr Netanyahu on Monday afternoon issued a status statement after meeting with the Israeli Defense Minister and the IDF Chief-of-Staff, at the Kirya in Tel Aviv, in which he declared the Jewish state has 'international backing.'
"We are exacting very heavy prices from Hamas for its intolerable aggression. The IDF has carried out attacks on over 1,500 targets in recent days. We have struck very hard at Hamas's underground activity. Hamas invested an entire decade and vast capital in the excavation of tunnels; most of it, not all, but a considerable part, is gone," he said.
"Hamas's 'metro' has been transformed from a strategic asset into a deathtrap for terrorists. I said it yesterday and I will say it again today: No terrorist is immune."
"Additionally, we struck at Hamas's UAVs and drones, as well as at their naval capability. We have destroyed stockpiles of missiles and rockets. We have wrecked terrorist buildings, command centers, and infrastructures throughout the Gaza Strip. We are doing this while making an effort to minimize injury to uninvolved persons," the Israeli prime minister said.
"With stratagems we make war [see Proverbs 24:6] and with daring we will be victorious. We are continuing to take action, even at this hour, as long as necessary to restore quiet and security to you, citizens of Israel. It will yet take time."
"There is talk about international pressure. There is always pressure but all in all, we are receiving very serious backing, first of all from the U.S. Again, I would like to thank our friend, President Joe Biden, and also the many other countries that have truly taken incredible steps such as flying the Israeli flag over their government buildings. We very much appreciate this. There is a reason for this support because after the reprehensible attacks, such as those in Jerusalem, against Israel's cities, in the attempt to kill innocent Israeli citizens we have international backing and we are using it, in our natural right to self-defense as well."